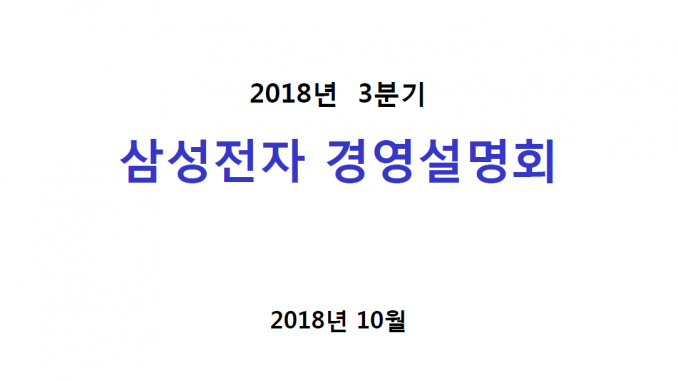 ■ 3Q18 Quarterly Dividend
Samsung Electronics has decided to pay 354 won per share in cash for both ordinary shares and preferred shares in the third quarter of 2018. That is about a quarter of the 9.6 trillion won expected to be allocated annually in 2018. In an effort to enhance the value of shareholders, the company greatly expanded its dividend to 9.6 trillion won in 2018 from 3.1 trillion won in total annual dividends in 2015.
■ 3Q18 Review
Samsung Electronics announced its third quarter performance in 2018 with sales of 65.46 trillion won and operating profit of 17.57 trillion won. Compared to second quarter of last year, sales and operating profit increased by 5 trillion won and 3 trillion won respectively. Its operating profit is the largest quarterly operating profit, and its sales are the second after its sales in fourth quarter of 2017. Increase in sales of memory and OLED panels led to positive performance in third quarter.
While markets for semiconductor businesses are continuing to remain robust, performance of semiconductor businesses has increased due to improvement in yields and productivity along with refinement of processes. Performance of display business has also improved greatly compared to previous quarter due to increase in operating rate of flexible OLEDs.
Despite increased sales of Galaxy Note9, profits for IM sector have decreased due to increased sales of Smartphones due to intensified competition in low and medium-priced products. CE's performance has improved due to expansion of sales of premium TVs such as QLED and super-large.
On the other hand, the set business showed strong won against major growth market currencies and some negative optimism, but the won weakened against the dollar, resulting in a positive trend of around 800 billion won compared to the previous quarter in the company.
Due to slowing semiconductor market due to seasonal off-season entry, it is expected that company's performance in fourth quarter will drop compared to the previous quarter.
Although performance of semiconductor business is expected to slow down as it enters off-season, it is expected that its display business will have solid performance as demands from major OLED customers continue.
Although it is predicted that sales of Smartphones will increase due to strengthening of lineup of low and medium-priced products such as Galaxy A series, profitability will decrease due to increase of marketing cost during peak season. It is expected that network businesses will push for supply of 5G equipment to South Korea and the U.S. and lead 5G era.
CE is expected to grow in performance due to expansion of sales of QLED TVs and premium home appliances at the end of this year.
Although it is predicted that its performance in first quarter of next year will be weak due to non-production of IT, positive trend of performance will be expected along with improvement of memory-oriented business.
In order to respond to new growth areas such as 5G, AI, and electricity, Samsung Electronics is planning to increase its technical skills in components such as chipset and OLED, and strengthen its competitive edge in business such as innovation of form factor and 5G.
■ Capex
Facility investment in 2018 was about 31.8 trillion won, or 24.9 trillion won in semiconductors and 3.7 trillion won in displays.
Although small facility investment increased compared to last year by extending production lines to Pyeongtaek for memory, it is expected that investment in foundry will decrease compared to last year due to completion of extension of 10-nano process.
Because investments into extension of production of flexible OLED panels were concentrated last year, facility investments also decreased this year.
On the other hand, facility investment in third quarter was 5.6 trillion won, which is equivalent to 4.5 trillion won in semiconductor and 0.5 trillion won in display. Up until the third quarter, 22.3 trillion won was spent on the accumulation line.
■ Data Points
① Semiconductor
It is predicted that Samsung Electronics' DRAM bit growth in third quarter was mid-10% and ASP was in first quarter and DRAM market Bit Growth in fourth quarter is expected to grow by mid-digit number. The company is also predicting the level of the market, and DRAM Bit Growth is expected to grow by 20% in 2018 and the level of growth of the company is expected.
For NAND, the company's Bit Growth was in the early 20 percent quarter, and ASP fell mid-point-one digit from the previous quarter. NAND Bit Growth in the fourth quarter is expected to grow in the second half of a digit, and companies are also expected to see their growth level. Annual market Bit Growth in 2018 is expected to be in early 40%, and companies are also expected to have their own level of growth.
② Display
Percentage of OLED sales in displays was about 80% of sales.
③ Phone/Tablet
In third quarter, sales of mobile phones were 81 million, Tablet PCs were 5 million, and Blended ASP was in the early part of 220 dollars. The percentage of smartphones in the entire mobile phone market was 80 percent in the second half.
It is predicted that sales of mobile phones and tablets in fourth quarter will increase compared to the previous quarter and that Blended ASP will decrease.
④ TV
Sales of LCD TVs during third quarter increased by mid-digit number, and it is expected that sales of LCD TVs in early 2016 will decrease by early number.
■ Details by Business Sector
① Semiconductor
In third quarter, its semiconductor business recorded $24.77 billion (24.77 trillion KRW) in sales and $13.65 trillion (13.65 trillion KRW) in operating profit. Along with seasonal peak season effects, demands for memory markets have increased with servers and mobile devices. It has continued to improve performance by increasing percentage of high-tech processes and focusing on selling premium products.
NAND achieved solid performance based on 64-layer 3D V-NAND that is produced in Pyeongtaek. DRAM also strengthened its cost competitiveness by expanding its conversion to 10-nano-level products and achieved solid performance by responding actively to requests from customers by each application.
Although it is predicted that the fourth quarter will enter a seasonally off-season for parts, NAND is expected to expand the SSD market and continue to demand high-capacity products for mobile devices. In terms of supply, however, the price of NAND is expected to continue to fall as the supply of 64-layer 3D NAND is increasing and competition in the SSD market for PCs is intensifying.
Although DRAM prices are likely to stabilize due to short-term inventory adjustments from some customers, overall demand for DRAMs is expected to continue. In particular, it is planning to expand application of 5th generation 3D V-NAND to server and mobile applications and focus on strengthening product competitiveness by continuously increasing proportion of 10-nano DRAM products.
Although the first quarter business may slow down slightly depending on seasonal effects in 2019, supply and demand situation is expected to stabilize due to increased demand from servers and mobile devices since second quarter.
NAND is expected to improve supply and demand as the cloud market continues to grow in demand for high-capacity SSDs and the increasing frequency of smartphone replacement cycles, enabling the steady adoption of high-capacity mobile storage for backup of existing data, high-definition and content.
DRAM is expected to increase demand mainly due to expansion of machine learning-based AI services, increase of high-capacity wireless products, and growth of Cloud markets, and overall increase in demands for low and medium-priced Smartphones is expected to increase.
Although there can be variables depending on level of expansion of 10-nano process in supply, there are difficulties in expanding supply due to increased technical difficulty and financial burden. It is planning to strengthen its competitive edge in markets by selling differentiated products such as server-based high-capacity products and HBM2 (High Bandwidth Memory).
System LSI's performance has improved compared to previous quarter due to increase in demands for Chinese image sensors and OLED DDI for flagship Smartphones due to booming Smartphone markets in third quarter. In particular, image sensors have achieved their best quarterly performance by hiring more multiplier cameras and high pixel sensors.
The fourth quarter will see a 19 year increase in demand from major customers, but overall non-season entry will lead to a decrease in performance due to reduced demand for mobile image sensors and DDIs.
It is predicted that steady growth will continue in 2019 due to increase in demands for image sensors due to increase in specifications of Smartphone cameras. Samsung Electronics is also planning to focus on diversifying its Chinese and U.S. trading lines by utilizing 5G modems and expanding its business area by developing new products such as 3D and embedded fingerprint recognition sensors.
Despite reduction of mining chip chips for virtual currency in third quarter, its performance has continued to grow due to increase in demands for mobile AP and image sensors. It also secured technical leadership by developing 7-nano process that was first applied by Extreme Ultraviolet (EUCV) and starting production.
It is predicted that demands for mobile AP and image sensors will be weak as number of parts for Smartphones during fourth quarter is decreasing. It is predicted that its yearly performance will continue to grow due to performance of diversification of customers such as HPC and others.
It is planning to focus on achieving solid performance by supplying major products such as mobile AP and image sensors in 2019, and increase number of customers by more than 30% through diversification of its lines in AI and 8-inch foundry services. It is also planning to continue its technology leadership by mass-producing 7-nano process that is applied with EUV.
② Display Panel
Samsung Display's display business in third quarter recorded $10.69 billion (10.09 trillion KRW) in sales and $9.4 billion (1.1 trillion KRW) in operating profit as sales of panels increased.
It is expected that its performance in OLED business will improve due to increase in demands for flexible products and that its performance will be robust as demands for panels from major customers will continue in fourth quarter. It is planning to strengthen its customer base based on flexible panels and strengthen its competitive edge in production cost in 2019 so that it can continuously grow sales and improve profitability. It is also planning to strengthen its leadership in OLED panel business by expanding new product lines in areas such as foldable and electric fields.
As sales of LCD panels, such as super-large and UHD, increased in third quarter, its performance increased slightly compared to the previous quarter. Although it is predicted that supply and demand will be weak due to seasonal off-season effects, Samsung Electronics is planning to increase profitability by increasing percentage of products with super-sized and high-quality products and improving yields.
Although uncertainty is expected to increase due to increase in production volume of industries in 2019, Samsung Electronics is planning to focus on selling high-value products based on differentiated technologies such as Quantum Dot, 8K, and ultra-large TV panels.
③ IM (IT & Mobile Communications)
IM Department recorded 24.91 trillion won in sales and 2.22 trillion won in operating profit in third quarter.
Although flagship models have achieved solid sales following release of Galaxy Note 9, sales of low and medium-priced Smartphones have been reduced due to reduction of lineup.
Operating profit fell from the previous quarter due to increased promotion costs including marketing expenses related to release of Galaxy Note 9.
It is predicted that sales of Smartphones will increase compared to the previous quarter due to strengthening of low and medium-priced lineups including Galaxy A7 and A9 during the peak season of the year. However, due to increased marketing costs, profits are expected to fall from the previous quarter.
Although it is predicted that Smartphone markets will grow slightly in 2019, competitions will become even fiercer as high-end quality of Smartphones are also expanding towards low and medium-priced ones. Samsung Electronics is planning to increase sales of premium Smartphones through design differentiation through innovation of major components such as OLED and diversification of lineup while also adopting differentiated functions from new technologies in cameras and displays for low and medium-priced Smartphones. It is also planning to introduce foldable and 5G models in a timely manner to lead innovation of technologies and strengthen its competitiveness in long-term business by strengthening AI and IoT-based services based on Bixby.
For network businesses, sales and operating profit of major trading lines both decreased compared to the previous quarter as they expanded LTE investment early in the first half.
It is planning to supply equipment to advanced telecommunication markets such as South Korea and the U.S. for commercialization of 5G and is planning to actively respond to growth of global 5G markets next year.
④ CE (Consumer Electronics)
CE's sales and operating profit of $10.1 billion (10.18 trillion KRW and 0.56 trillion KRW) were recorded in third quarter. Its performance has improved due to expansion of high-priced products such as QLED TVs and super-large TVs. In particular, QLED TVs recorded more than three times sales compared to first quarter of last year, and super-large TVs with 75 and older TVs recorded twice the sales of last year.
Samsung Electronics is planning to continue to push for growth in its performance by expanding sales of premium products such as 'QLED 8K' TVs during fourth quarter of this year.
It is expected that TV markets will remain at their level in 2019. Samsung Electronics is planning to increase its performance and increase its premium leadership in TV markets by expanding sales of QLED TVs and strengthening lineup of super-large and 8K TVs.
Although sales of premium products such as Chef Collection refrigerator and FlexWash washing machine increased in third quarter, their performance decreased slightly due to economic slowdown in South America and the Middle East.
In the fourth quarter, the company plans to strengthen the promotion of the peak season by region and continue to increase sales of premium home appliances such as large-size dryers and cube air purifiers.
It is going to continue to release premium innovative products in 2019 and focus on strengthening profitability through online sales, and actively secure future growth engines by expanding B2B businesses such as built-in home appliances and system air conditioners.
■ Q&A
Q) Ask about the outlook for supply and demand of DRAM. Although there are many opinions that DRAM prices will fall by first half of 2019, there are many concerns about level of drop or duration. Please advise on the range and period of DRAM price decline from 4th quarter to 2019. There are expectations for soft-landing, but please also mention how short the duration can be.
A) It is likely that the first quarter of 2018 to 2019 will ease market conditions due to seasonal impacts, and in the second half, mobile and server demand will grow due to increased demand for 16GB DDR4. It forecasts a rise in demand.
This is the first time that both customers and suppliers are experiencing supply shortages that have been going on for more than two years. Price reversal is a temporary supply and demand imbalance due to the psychological factors of players in the industry, seasonal differences in customer inventory, demand, and timing of supply and demand. It is predicted that demand for memories will be robust due to steady demands for 5G and AI and that demand for memories will continue to grow as IT industries become data centers.
Q) The board of directors said in April 2017 that it would burn off the remaining 50 percent of its shares in 2018. I wonder if there is any change in the original plan.
A) There is no change in the 2018 incineration plan for 50% of its shares.
Q) When is the foldable Smartphone launched? What are the other points besides the dialog? What is the difference between the existing product and the user interface?
A) Foldable Products is an innovative form factor called Foldable and combines its portability and interface experience perfectly. It wants to provide experiences in Smartphones when it is folded and tablet PCs when it is expanded. At the same time, it is possible to perform many tasks quickly and conveniently and to deliver meaningful products to customers. Applications need to be optimized for new form factors before they are released, and there are many considerations to be specific to folderable devices. I will create a space where I can share related information with app developers.
Please refer to the Samsung Developer Conference, which opens next week for differences in user interface. Please understand that we have not yet been able to tell you about the launch schedule. I'll show you a finished product.
Q) Ask about the prospects for DRAM demand. Recently, data center and enterprise purchases have been declining, and how is the company analyzing how much inventory adjustment or how much CAEPX burden has been sustained since 2016? If the latter impact is greater, when does the customer expect to accelerate DRAM demand as demand increases again?
A) We are predicting that there will be increased demand starting from second quarter of 2019 when new CPUs are released. Data center inventories were partly improved at the Tate level at the beginning of the year, but inventory levels for each company's products vary. On the demand side, memory demand will inevitably increase across Hyper Scale computing, and inventorying certain vendors and products will be short-term. In the mid- to long-term, the fundamentals of demand are very robust.
Q) I ask you a question on the NAND side. Is the 92nd Single Stack expected to ramp up faster than 64th? So how does this affect CAPEX in 2019? How much wafer CAPA will be allocated for the 92nd stage in 2019 if production of 92nd stage rises faster than 64th? How long do you plan to continue the single stack when your competitor moves to multi-stack?
A) Generation 5 V-NAND Lamps-Up is going well as planned. Production speed is similar to or better than 4th generation lamp business. Because quality certification time is needed for server SSDs and mobile devices, it is currently supplying them to PCs. By 2019, it will expand its share to provide servers and mobile services. It is planning to operate its investments flexibly according to demands from its products.
It is difficult to say for certain how much a single stack will be applied in the future. It is preparing to introduce 6th generation products and is planning to mass-produce 6th generation products in second half of 2019.
Q) We are wondering if there is a chance that network equipment will be expanded due to 5G market development in 2019. It is also going to ask South Korean Government to explain about effect of promoting demands for flagship Smartphones due to introduction of 5G and strategy of differentiation of wireless companies.
A) 5G will be commercialized in 2018 in advanced telecommunication markets such as South Korea and the U.S. and will be commercialized in Japan, China and Europe by 2019. After 2020, there are plans to commercialize this technology in markets for growth such as India. It is expected that there will be many opportunities for South Korea along with expansion of countries that commercialize 5G network.
Introduction of 5G can be an opportunity to change atmosphere in Smartphone markets that are currently stagnant. It is predicted that variety of services that were not activated due to ultra-high definition videos of 4K or higher, real-time personal broadcasting, cloud games, and speed constraints of network will be commercialized in earnest. It seems that high-definition, high-performance, and high-capacity memory needs will grow and it is expected that this will lead to increased demands for high-end Smartphones.
We are a company that has strengths of 5G, equipment, and terminals. Based on security technologies certified by major governments around the world, it will continuously strive for commercialization of 5G and thoroughly prepare and respond to security. It will maximize 5G characteristics of ultra-fast, ultra-low delay, and super-connection on its devices and prepare various differentiated points such as high-definition video streaming and games.
Q) What is the competitive edge of System LSI's mobile 5G modem chip? If 5G markets expand, it is going to ask them to explain their possibility of securing new customers.
A) Our modem technology has already shown quality and performance in LTE and has already commercialized more than 500 million modem chips to more than 140 global carriers.
Our 5G modem is being developed according to the schedule of major vendors and is being prepared to meet the technical requirements requested by the market. It is also actively promoting these 5G technologies to major customers such as China and the U.S.
Q) NAND price declines continue, and market interest is high on the effect of price falls on boosting demand and stabilizing future supply and demand. In the future, what applications can expect to see increased demand for elasticity of demand? I ask you to explain about supply and demand outlook for 2019.
A) Basically, NAND has a relatively large demand boost as a result of price stabilization compared to DRAM. In fact, the high-capacity trend has accelerated with price stability, and the shift from mobile to high-capacity E-Storage employment has also expanded to AFA for 10K HDDs. In response to the low growth of NAND storage, we shipped more than Bit Aid in the previous quarter for two consecutive quarters, resulting in reduced inventory levels for this quarter.
Although 2019 is expected to stabilize prices in non-seasonal periods by the first half of the year, further increases in demand are expected in the second half due to seasonal increases and price stabilization.
In terms of supply, it is expected that there will be differences in supply and demand of 90th-level 3D NAND from industries, but bit growth will not be much bigger than this year due to yearly supply and demand of application. Therefore, it is predicted that a favorable supply and demand situation will develop in the second half as well as increase in demand.
Q) There is talk about reduction of Samsung Electronics' DRAM investment in the market and ask for explanation of overall investment plans for 2018 and 2019, including DRAM.
A) I think we will be interested in investing in the recent market. Expansion of upper floors of Pyeongtaek in 2018 is going on as planned. Although not specifically decided on the remaining expansion in 2019, various measures are being considered, including the conversion of 16-line NAND to DRAM, considering the efficiency of the overall line operation and investment. Various methods of operating these lines seem to be being circulated in the market.
Memory Bit-Growth is determined by variety of factors such as productivity, efficiency, and generation conversion as well as investments such as extension of production. South Korea's basic strategy is to secure bit growth and to operate and invest lines from a semiconductor perspective.
Q) The stockholders' reduction policy is planned for three years from 2018 to 2020, and there is likely to be an additional change in the return of shareholders in 2021. I wonder if there will be additional shareholders' redemption in 2019 will be possible due to good surplus cash flows in 2018.
A) By mid-2019, surplus cash flows for three years 2018-2020 can be checked. We have said we will pay 9.6 trillion won per year for the current three years, and I think it is possible to review the additional return to shareholders at that point.
Q) The market seems to be worried about the semiconductor business. There are many questions mainly about the uncertainty in demand, and in the past, the downward trend was greater than expected. Do you think this cycle as Samsung's memory industry leader is different from that of the past? Then, why?
A) In the past, the IT market has changed around PCs, but as the mobile and server markets grow, demand for applications has diversified. PCs are heavily influenced by seasonal demand cycles, and the server market has little seasonal variation. It also determines that a large amount of data produced by various applications and devices is linked around the server, and that demand is in the early stages of a virtuous cycle that facilitates demand for END layers as demand for servers grows.
This change in the server-centric memory market is not just a change but a paradigm shift. We believe that the current two-year supply shortage should be understood in the midst of changes in the digital paradigm, along with the rapid increase in technology difficulty after 20-nano process.
The recent price drop is due to a combination of inventories, seasonal demand, and psychological effects caused by an unprecedented rise in prices over two years. Although temporary price changes may occur in the future, the overall market looks different than in the past.
Q) Let me ask you a question on the display. Although it achieved solid performance in third quarter, there are continuing concerns about flexible OLED demands and operating rates due to expensive strategies of OLED recruitment models from major overseas trading lines. Can we expect strong demand growth in 2019? Please explain about the outlook for OLED business in 2019.
A) OLED panel is becoming the main stream of flagship Smartphones and it is expected that demands for OLED panels will increase further by 2019. From a supply perspective, it is expected that this will be a difficult environment for markets as competition is intensified due to full-scale entry of competitors and expansion of CAPA. The company will strengthen its competitive edge and increase differentiation based on long-term accumulated technology.
In particular, the company plans to expand its OELD business through new products in 2019 with this differentiated technology. I will focus on developing technologies to enter products that require high technical completion such as foldable, Auto, and IT. In preparation for the full-fledged OELD era, we will diversify our business lines and establish a stable portfolio. Through this process, we will maximize sales and profitability by securing operation rate of 2019 or higher.
Q) Let me ask you a question on the TV. We are curious to know how the market will react to the newly released 8K and how much sales will be expected in 2019. Can you clarify the company's position on QDOLED's new products and production of new technologies? In addition, please describe the technology roadmap for mid- to long-term TV products.
A) The company is focusing on North America, Europe and South Korea. The 8K is well received by both distribution and consumers in quality and design. It is meaningful that 8K is going to open ultra-high quality markets based on our technology leadership based on advanced markets in 2018 and will lead premium markets by achieving significant sales performance through global launch in 2019.
We are also strengthening ongoing research and development to provide better quality experience and value to our customers. Although QDOLED is one of the various TV technologies, it is a truly self-introduction that will focus on QLED and color-filtering technology as sales increase greatly in 2018.
Q) Let me ask you a question on the foundry side. What is the effect of Dr. Pound giving up seven-nano development?
A) Although it is difficult to directly mention global foundry competitors, South Korea's 7-nano process has been recognized by customers for its competitive edge in Full EUV. It is true that inquiries from customers regarding the fleet process have increased significantly. It finished developing 7-nano EUV and started producing products from customers. It is planning to introduce mass-production in 2019. It is actively pushing to expand its customers based on mobile, AI, and AUTO with 7-nano EUV that is innovative and competitive.
Q) I am curious about the status of Samsung's EUV development. Is EUV applied to the first few layers of 7-nano? Please explain how many customers are able to improve costs and how many are available.
A) Number of layers can be customized for each customer. Let me just say that cost can provide a competitive price structure for competitors.